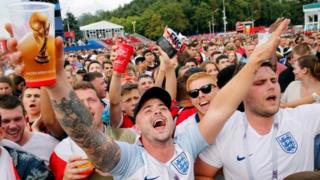 The UK economy grew more strongly than expected in July as the heatwave and World Cup boosted the retail sector.
The Office for National Statistics said the economy grew by 0.3% in July, and by 0.6% over the three months to July – the fastest pace in almost a year.
"Services grew particularly strongly, with retail sales performing well, boosted by warm weather and the World Cup," said Rob Kent-Smith from the ONS.
The construction sector expanded but industrial output contracted.
"The dominant service sector again led economic growth in the month of July with engineers, accountants and lawyers all enjoying a busy period, backed up by growth in construction, which hit another record high level," said Mr Kent-Smith.
The 0.6% growth rate for the three months to July was at the fastest since August 2017, the ONS said, and marks a pick-up from the 0.4% rate seen in the three months to June.
The data comes ahead of the Bank of England's monetary policy meeting on Thursday when interest rates are not expected to change. They were raised in August, for only the second time a decade, to 0.75%.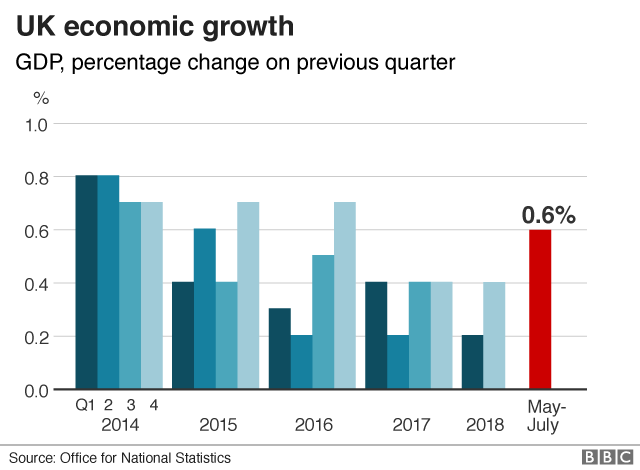 John Hawksworth, chief economist at PwC, said the latest data justified the decision to raise rates last month. However, he remained cautious due to the possible impact of Brexit.
"Looking ahead… the long hot summer could give way to a stormy autumn as Brexit-related uncertainty leads businesses to defer major investment decisions and subdued real wage growth weighs on consumer spending," he said.

Analysis:
By Andy Verity, BBC economics correspondent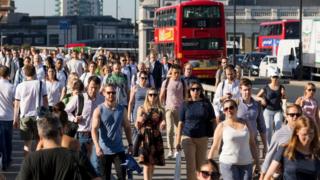 Today's economic growth figures contain a few pleasant surprises as the economic climate mirrored the meteorological one.
You will have heard about gloom on the High Street: the figures show activity in the retail sector growing in the summer heat. You knew construction was in a hole: in the three months to July it started climbing back out – up 3.3%.
Services drove growth, rebounding from a flat few months before. Professional services – engineers, architects etc – had a particularly busy three months, up 4.4%. No sign there yet of a Brexit-induced slump.
Hotels, camping grounds and trailer parks also enjoyed growth of 3.4% – made more attractive to foreign tourists by the weak pound.
Yes there may be clouds on the horizon; but don't get your umbrella out just yet.

'Solid start'
The ONS published a string of data alongside the GDP estimate:
Yael Selfin, chief economist at KPMG UK, said there had been a "solid start" to the third quarter but that each of the sectors showed a mixed picture.
"Uncertainties and risks around Brexit are likely to make the Bank of England particularly cautious during the critical months ahead. We expected a pause before interest rates are raised by 0.25% in November 2019 to 1%," she said.