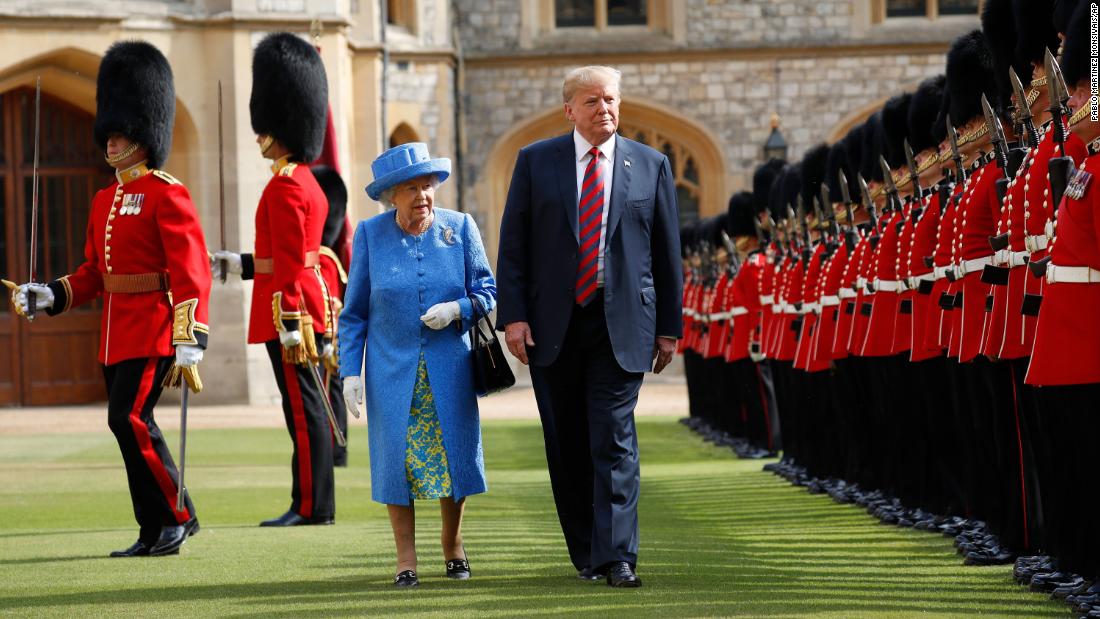 (CNN)Poor President Trump.
There was only one problem. None of the other royals showed up.
The Queen stood alone on a dais to wait for his arrival at Windsor Castle. (She was kept waiting for 15 minutes by the President's entourage and twice
visibly checked her watch
. That is as passive-aggressive a move as you get from Britain's patron saint of etiquette.)
Her husband, the 97-year-old Duke of Edinburgh, is increasingly frail and has formally retired from public duties, so his absence gets a pass. But as reported in
this weekend's Sunday Times
— and widely rumored previously — Princes Harry and William refused to meet with President Trump. So, too, reportedly, did Prince Charles, although the feeling is likely mutual, given
Charles' criticisms
of the President's skepticism of man-made climate change.
Neither of his sons' wives will have been itching for a friendly photo with President Trump. While still a private American citizen, Prince Harry's new wife, Meghan Markle,
called
Trump "misogynistic and divisive." Prince William's wife, Kate Middleton, can hardly be unaware that Trump
once urged on
paparazzi photographers to take topless photographs of her. Meghan and Kate found time
to cheer on Serena Williams
, playing at Wimbledon this weekend, but not to meet with Trump.
Will Donald Trump care that he didn't get to meet the royals' rising stars? Perhaps, for one reason.
In 2016, Barack Obama also made a visit to the Britain. Like Trump's, it was not officially a state visit, which would have obligated full royal attendance and a state banquet. Yet the young royals all chose to meet him anyway. Famously, Obama
was pictured
meeting young Prince George, with the toddler modeling the latest in bedtime bathrobes. Will Trump be miffed that he wasn't welcomed into the domestic bosom of the British royal family? Anything Obama got, Trump wants.
Yet Donald Trump didn't have to meet a single British royal to achieve his diplomatic goals this week. His true mission was not to the British head of state, nor to the head of government, Prime Minister Theresa May, whom he infuriated by praising her enemy Boris Johnson in a tabloid interview (though he rowed back in a press conference on Friday). Instead, here in London, the US President's trip looks like an exercise in outreach to the British anti-immigrant right.
For months now, the presidential Twitter account has echoed the language of European white supremacist movements. In January, he was
condemned by
Theresa May after retweeting videos from the white supremacist group, Britain First. The videos were typical of the murkier corners of online white supremacism, with unverified footage claiming to show Muslim migrants attacking white Europeans and destroying a statue of the Virgin Mary. One video that purported to be from Europe was in fact from Egypt. Another, which bore the caption 'Muslim migrants beating up a Dutch boy on crutches,' was later proven to show an attacker who was neither Muslim nor migrant.
Promoting racist videos might have been bad enough from the US President, but the name 'Britain First' has a particular resonance in the UK. It was the phrase
reported to have been shouted
by white supremacist and Brexit extremist Thomas Mair as he murdered the MP Jo Cox. A little sensitivity toward her parliamentary colleagues would not have gone amiss.
Instead, in an interview with The Sun,
Trump said
of immigration: "I think it changed the fabric of Europe, and, unless you act quickly, it's never going to be what it was, and I don't mean that in a positive way."
Unsurprisingly, Trump's envoys have been lobbying on behalf of the most unsavory of anti-immigrant activists. As Trump landed in Britain, it emerged that Ambassador Sam Brownback, the US ambassador for international religious freedom,
had complained
to the British ambassador in Washington about a jail sentence awarded by a judge — who like all the British judiciary, is independent of the executive — to the anti-Muslim activist Tommy Robinson. Robinson
has been jailed
for contempt of court for live-streaming a video that made claims about at least one Muslim defendant in a child abuse trial. Robinson's supporters claim he's been jailed for holding Muslim pedophiles to account. In fact, Robinson was sentenced precisely because his behavior could have led to a mistrial. His sentencing makes it more likely, not less, that Muslim men accused of child abuse will face justice. The intervention by a Trump representative in a judicial matter was greeted with outrage in Britain.
Robinson is set to get out of jail next year. British civic leaders are already worried about the impact that American money could have on a political campaign behind him. Trump's close associate, Steve Bannon,
appeared on British radio
this week to talk up Trump's visit and simultaneously defend Robinson. In the aftermath, Nadine Dorries, MP, called for a national political movement around Robinson, comparing him to Trump and French President Emmanuel Macron. Dorries is an active member of the hard-line anti-EU ERG grouping within the Tory Party, which
last month met
with Trump adviser John Bolton to plan tactics ahead of the Trump visit.
Trump may not have voters here in London, but he does have followers. The shared feedback loop of fear and propaganda about an Islamic takeover of Europe is essential to whipping up support for Trump's anti-immigrant agenda at home. No wonder that Trump's language on this European tour has been peppered with attacks on European leaders for being "soft on terror" —
most notably
London's Muslim mayor,
Sadiq Khan
. Trump previously attacked Khan in the aftermath of last year's Borough Market attack, for telling Londoners not to be ruled by panic and that they had "no reason to be alarmed."
Oddly enough, he didn't attack the white Prime Minister for echoing Khan's sentiments, when
she said
, "Everybody needs to go about their lives as they normally would." Nor did he blame a terrorist attack carried out in Manchester on that city's (white) mayor. One wonders why.
Perhaps, in this anti-migrant vein, President Trump won't mind not being able to spend more time with the royals. They are, themselves, the descendants of German migrants. But then again, so is President Trump.
Read more: https://www.cnn.com/2018/07/16/opinions/trump-royals-snub-migrant-crisis-maltby-opinion/index.html