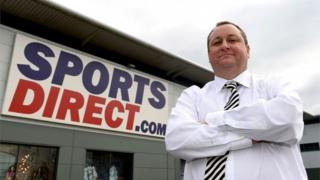 Sports Direct has denied claims that it wants struggling retailer Debenhams to collapse so it can buy it cheaply.
Reports had suggested Sports Direct boss Mike Ashley could block Debenhams attempt to raise cash by selling its department store chain Magasin du Nord.
A spokesperson said the suggestion was "irresponsible and incorrect".
The sportswear giant recently bought House of Fraser and owns 29.7% of Debenhams, prompting speculation of a possible merger between the two chains.
Sports Direct's spokesperson said that Sports Direct had discussed "various opportunities for business collaborations to support Debenhams over the last year or so", but said Debenhams had "chosen not to move forward with these proposals, as is their right".
Last week, an outgoing director from Sports Direct suggested the idea of a merger had been discussed at board level before later saying his remarks had been misinterpreted.
Sports Direct later issued a formal statement confirming it did not plan to make a bid for Debenhams for six months.
Under Takeover Panel rules, the chain is still able to make a bid if there is a "material change of circumstances" at Debenhams, with full agreement of the company's board or after a bid from a third party.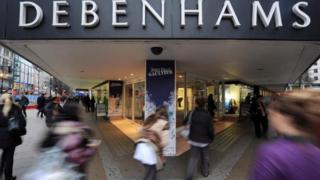 Debenhams is currently in the midst of a turnaround plan designed to cut costs and boost sales, and confirmed last week that it had appointed consultancy KPMG to help improve its performance.
The department store chain has issued three profit warnings this year, and has lost two-thirds of its share price value since January.
As part of its cost cutting, Debenhams said in August that 80 to 90 jobs at its headquarters would be shed. That followed a February announcement it was planning to cut 320 store management jobs.
The business is also looking at raising cash by selling off its Scandinavian department store chain Magasin du Nord for as much as £200m.
Read more: http://www.bbc.co.uk/news/business-45543057