If its the midterms, it must be time for talk about whether the House minority leader must go. Supporters and experts cry foul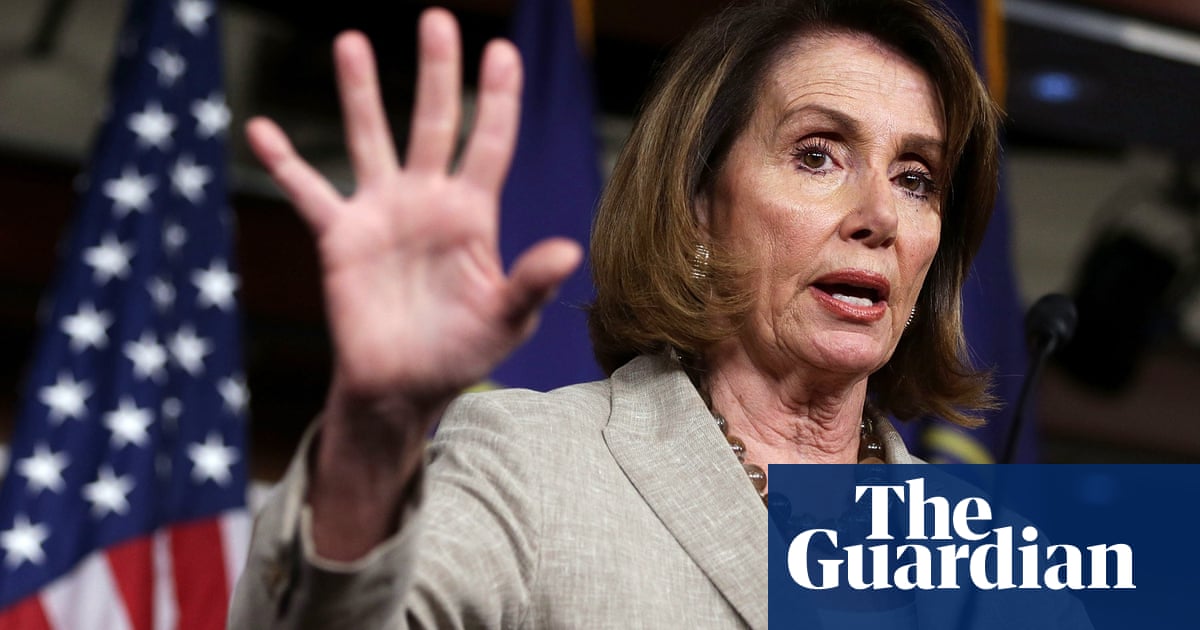 Nancy Pelosi was at the podium at the US Capitol, flanked by dozens of female lawmakers, when a reporter asked a familiar question.
Some of your colleagues privately say that your decision to stay on prohibits the party from having a younger leadership and hurts the party in the long run, said Luke Russert, then a correspondent with NBC News. Whats your response?
The women broke into a chorus of boos. Discrimination! Discrimination! shouted one.
Russert defend his line of questioning, pointing out that House Democratic leaders were all over 70. Pelosi defended her record working to elect fresh faces, many of them women, to Congress.
Oh, you always ask that question except to Mitch McConnell, she said.
That was 14 November 2012, just over a week after Barack Obama won the White House for the second time. Democrats had a majority in the Senate but the House of Representatives was under Republican control.
It was not the first time one of the most powerful women in American politics had been asked if it was time to step aside. Nor would it be the last. Seemingly every two years, as voters head go to the polls, the same debate emerges: are Pelosis days numbered, or not?
With two months until the 2018 midterms, the chatter has risen again. Republicans have waged relentless attacks on Pelosi, 78, branding her a San Francisco liberal, attempting to tie all Democrats to her.
The party is expected to do well. According to Axios, it is already planning for its time in power. But as many as 50 Democrats on the ballot, including nine incumbents, reportedly will not back Pelosi for speaker if they do retake the House.
To some observers, this illustrates a double standard for women in power. Pelosis detractors insist there is a legitimate discussion to be had over ushering in new leadership. But in the Senate, McConnell, the 76-year-old Republican leader who is likely to remain in control, is not faced with similar demands.
Successful strong women, when they can be demonized, seem to motivate a certain group of voters who are fearful of these successful women, said Cindy Simon Rosenthal, a professor of political science at the University of Oklahoma and co-author of the 2010 book Speaker Nancy Pelosi and the New American Politics.
Theres a lot of evidence in social science research of the negative stereotypes associated with older women as compared with older men, she said. Women are thought as they age to be more unpredictable, less capable, less cognitively with it, and men are more likely to get a pass.
Pelosi was elected in 1987 and has long been a target for Republicans. In 2007 she became the only woman ever to serve as speaker, a position she held until 2011. She has been minority leader since then.
Her legislative accomplishments include securing the passage of the Affordable Care Act (ACA) and a stimulus package to revitalize the economy under the Obama administration. She has been heralded for advancing womens and LGBT rights. She broke with most Democratic leaders by opposing the Iraq war.
She is also a shrewd negotiator and tactician who has held her caucus in line to oppose Republican efforts to repeal the ACA and pass a vast tax overhaul. She remains a prolific fundraiser who brought in nearly $91m through July for the Democratic Congressional Campaign Committee.