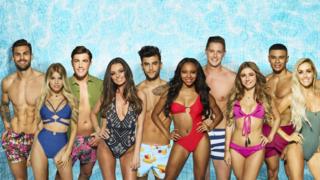 ITV has defended the advertising around its Love Island reality TV programme.
Love Island and the football World Cup are among the programmes that have helped boost profits at the broadcaster in the first half of the year.
Carolyn McCall, chief executive, told BBC One Breakfast that a "tiny number" of adverts were "not quite right".
The head of NHS England has raised concerns about seeing trailers for cosmetic breast surgery during the ITV2 show.
'Duty of care'
"We take that very, very, seriously and actually there were a tiny number of ads that I would have thought the juxtaposition was not quite right," Ms McCall said.
The adverts were seen on the ITV Hub and not on the main channel, she said, adding that ITV was looking at the situation and would take its own action.
The company also took its "duty of care" to its contestants on the show very seriously, she added. The broadcasting regulator has received complaints over scenes in which contestants were distressed.
Less controversial advertisers such as Superdrug have cited the show as a reason for the rise in its profits.
'Strong slate'
At ITV profits to the end of June rose to £265m from £259m, while revenues increased by 8% to £1.5bn.
Advertising sales rose 2%, with 48% growth in online, but ITV said economic uncertainty remained a factor.
ITV said it had "a strong slate of new and returning programmes" for the rest of the year, including X Factor and, I'm A Celebrity… Get Me Out of Here.
Speaking on BBC Radio 4's Today programme, Ms McCall said the broadcaster had seen its best share of first-half viewing since 2009.
'Doing very well'
"The World Cup is a great thing but we can't rely on it," added Ms McCall, who was appointed to the role a year ago and took charge in January.
"It is important to bear in mind that before the World Cup and Love Island, which have been extraordinary for ITV, we had been doing very, very well on our viewing."
ITV's coverage of England's semi-final against Croatia in the World Cup attracted a peak of 26.6m viewers and the match average of 24.3m was bigger than the audiences for the opening and closing ceremonies of the London Olympics in 2012.
Love Island has been sold to seven other countries and ITV is about to announce another "big" market for the show, McCall added.
"Love Island is a phenomena which has got legs that will be commercially fantastic for ITV," she said.
'British content'
She is embarking on a "strategic refresh", which includes upgrading ITV's online Hub service, and launching a Netflix-style streaming business.
ITV is currently in talks with a number of parties regarding the latter, but did not indicate who they were.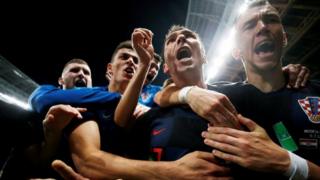 Ms McCall said its market research showed that viewers would pay for another subscription service, particularly if it has "distinctive and quality British content".
This would be in addition to its broadcast business and its studios operation, which sells programmes.
"The market is clearly changing and to reflect this we have developed a clear vision and initiatives to drive growth to ensure ITV remains a structurally sound business," the company said.
Online strong
Advertising is forecast to be flat in the third quarter and up 1% for the nine months to the end of September. The company said the "uncertain economic outlook" was holding back advertising in areas such as retail, airlines and holidays.
The company pointed to "strong double digit" revenue growth in its online operations.
Neil Wilson, chief market analyst at Markets.com, said that ITV was "serious about the threat from the likes of Netflix and Amazon, but will it come at the expense of ad revenues?"
About an hour into the trading day, ITV's shares were up 0.4% to 171.
Read more: http://www.bbc.co.uk/news/business-44950051