Nicolas Hulot says he is leaving government because president is not doing enough to meet environmental goals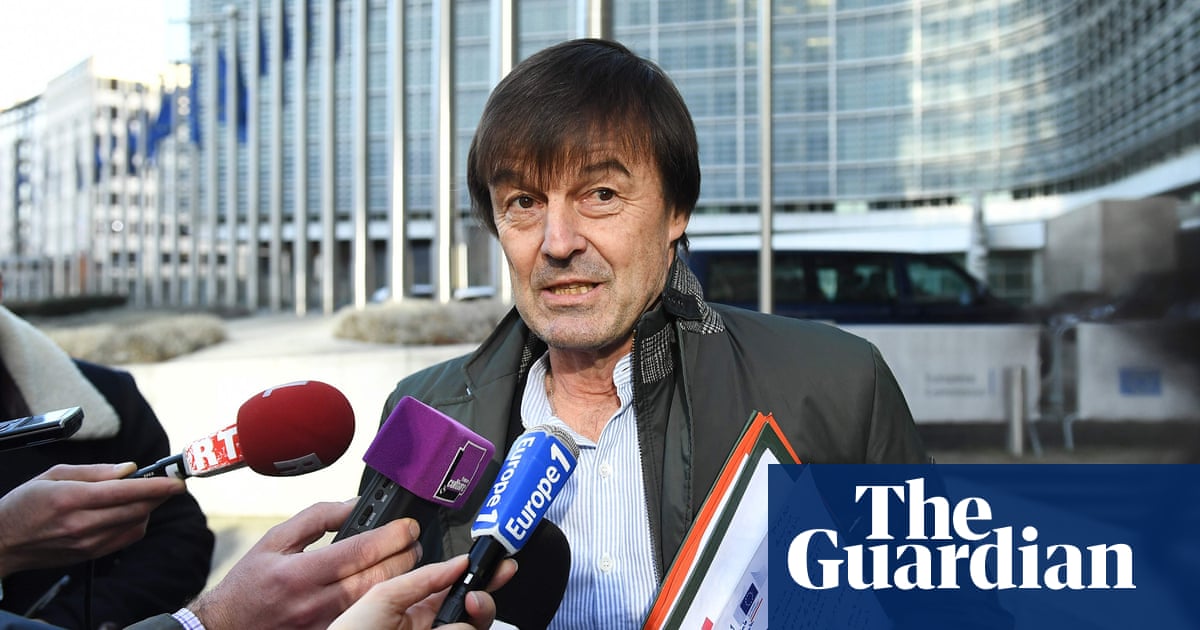 Emmanuel Macrons climate commitment to make this planet great again has come under attack after his environment minister dramatically quit, saying the French president was not doing enough to meet environmental goals.
Nicolas Hulot, a celebrity environmentalist and former TV presenter, announced on a radio breakfast show that he was leaving the government over an accumulation of disappointments with its measures to tackle climate change, defend biodiversity and address other environmental threats.
Hulots departure is a major blow to Macron and calls into question the presidents credibility on the environment. Though he did not make environmental issues a major part of his election manifesto last year, he subsequently attempted to push them to the forefront as a symbol of progressive politics and to counter Donald Trumps decision to take the US out of the Paris climate accord.
Hulot, who was one of the most popular ministers in government, told French radio the mini steps taken by France and other nations to slow global warming and avert a collapse of biodiversity were inadequate. I dont want to create the illusion that were facing up to it, he said. I cant lie to myself any more.
Emmanuel Macron responded by claiming that his government had done more than any other on this subject, saying people must be patient. Its a fight that isnt won from one day to the next, Macron said.
Hulot announced his departure after the government said it would relax hunting laws, a measure aimed at boosting Macrons appeal in rural areas, but seen by environmentalists as caving in to the powerful hunting lobby.
Under the changes, hunting licences would be cheaper and more species could be shot, sparking outrage among campaigners for the protection of birds. Hulot said lobbies had too much power over the French government.
Hulots differences with the government had been exposed in recent months. He had been disappointed when the government backtracked on a target to reduce reliance on nuclear power to 50% of the countrys energy mix by 2025.
He had also sought a legal ban on the controversial weedkiller glyphosate but was overruled by the agriculture ministry, which preferred negotiating directly with farmers and industry.
The government was taken by surprise by Hulots announcement live on radio. Macron, who was beginning a visit to Denmark, was not informed beforehand.
The Elyse, asked about Hulots concern over the influence of lobbyists, said the government listened to people but made decisions in the general interest.
The departure of Hulot, seen as a major figure on the left, threatens to upset Macrons delicate political balancing act, trying to style himself as a centrist who can appeal to both left and right in France.
He has lost support on the left in recent weeks and his approval ratings have dipped as he struggles to shake off the label president of the rich. Over the summer, he faced the first major political scandal of his presidency when a senior security aide was filmed violently assaulting a young man and woman at the edge of a Paris demonstration.
The most basic of courtesies would have been to warn the president of the republic and the prime minister, government spokesman Benjamin Griveaux told the BFM news channel after Hulot quit.
Richard Ferrand, the head of the parliamentary group of Macrons party, La Rpublique En Marche, said politicians and the government had worked hard with Hulot to meet climate challenges. Well keep going with the same determination, he added.
Hulot was formerly the star presenter of the hit environmental TV programme Ushuaa and had turned down offers to enter government by previous French presidents.
In February, he denied a magazine report of a historic allegation of sexual assault made against him by a woman in the 1990s.
After the anti-nuclear Hulot quit, shares in French state power company EDF rose more than 2% in early trading. Hulot had repeatedly said EDF must close up to a third of its 58 reactors to reduce the share of nuclear energy.
Read more: https://www.theguardian.com/world/2018/aug/28/french-environment-minister-quits-live-on-radio-with-anti-macron-broadside