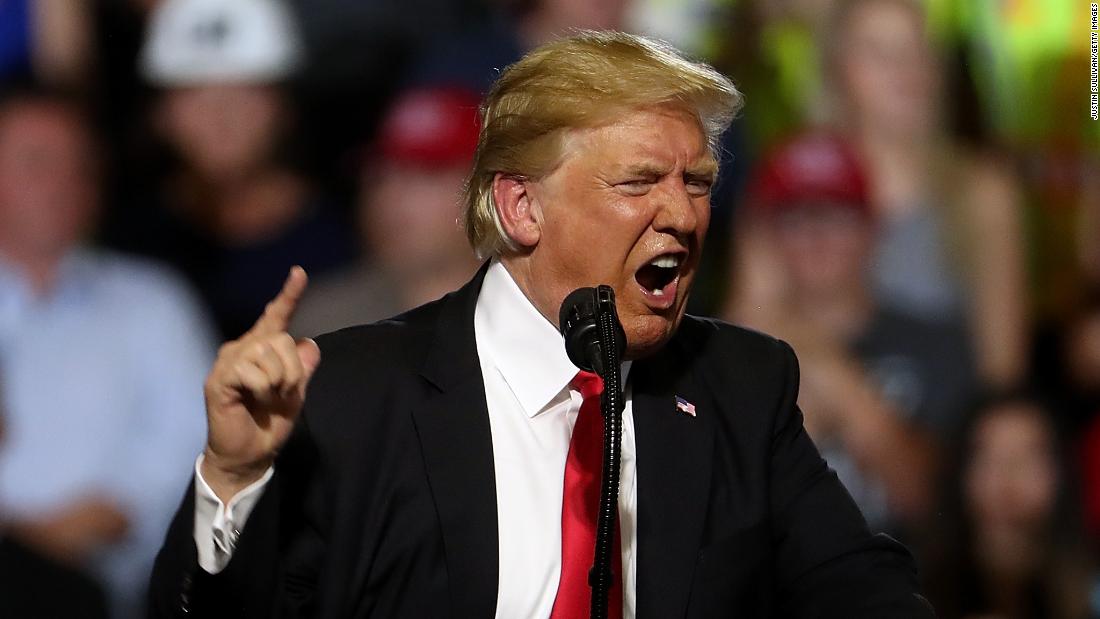 (CNN)Heads up, women; there's something Donald Trump wants you to know.
In fact, this would have been the perfect moment to bring out
Melania Trump's infamous jacket
, the one that caused a media firestorm when she wore it to — of all things — visit detained migrant children. Perhaps the President could appear on the White House balcony wearing the jacket, turn his back to America's women, and flash the message it delivers in big white letters: "I really don't care."
In this era of #MeToo, at a time when h
undreds of prominent figures
have been either accused, indicted or sentenced for sexual harassment or abuse, Trump has selected the man who was one of the top executives at Fox when,
multiple women allege,
the network operated as a nest of sexual harassment, denigration and abuse of women. Shine has denied any wrongdoing.
The incoming communications boss has not been accused of harassing women, but
he was
such a pivotal player at Fox during a period of systemic mistreatment that many view him as integral to it. He has also been personally named in multiple lawsuits.
As the avalanche of scandals at Fox forced out longtime CEO Roger Ailes and prime-time star Bill O'Reilly, staffers said the abuses were common knowledge. (Both Ailes, who died last year, and O'Reilly denied the allegations of abuse, even as Fox paid out millions to settle legal complaints against them.)
The White House staffing decision was reportedly orchestrated by Sean Hannity, the Fox News prime time commentator and Trump cheerleader who is extremely close to both Trump and the former Fox president. Shine started at Fox as a producer on the now-defunct show, "Hannity and Colmes," and with the former Fox chief now occupying a top job at the White House, the melding of Fox and the Trump administration is nearly complete, as CNN's Brian Stelter h
as noted.
Fox is already mockingly referred to in some circles as
"state media"
or Trump TV in the Trump era. That symbiosis will only intensify.
Shine became co-president of Fox after more than two dozen women accused Ailes of sexual harassment. He was there when the network battled Carlson, who reportedly received $20 million to settle her claims. And he was at Fox when the network was paying out millions to Bill O'Reilly's alleged victims, including one
eye-popping
$32 million payout to legal analyst Lis Wiehl, who complained of "repeated harassment" and "a non-consensual sexual relationship"—a characterization that sounds particularly disturbing. After that payment, Fox
re-signed O'Reilly
to a new $25 million contract before further scandals made his employment untenable.
So, how is it possible that the man who was in the corner office during all of this is now going to run Trump's communications shop?
The answer is written on the jacket Melanie wore. Trump does not care. In fact, the era of #MeToo was launched by Trump's candidacy, with his "Grab them by the p—-y" mantra and the numerous accusations of assault against him by women.
No one can dispute Shine's qualifications. The White House statement
refers to
"over two decades of television programming." But he also brings unmatched experience working with and protecting alleged sexual predators.
But there's more.
Trump knew that hiring Shine would cause people to write articles exactly like this one, and he did it anyway. Much like the President's decision to meet with Russian President Vladimir Putin, and to sit with him alone, with no witnesses — at the same time that Trump is in the middle of the special counsel's investigation into Russian efforts to help him win the election — the Shine move displays unalloyed arrogance and defiance. It's a middle finger raised at his critics. It's the attitude that delights his supporters and repulses his detractors.
It was on display Thursday night, when before a cheering crowd in Montana he poked at Elizabeth Warren for claiming to have Native American ancestry, disparagingly saying that he would send her a test kit to check her DNA: "We will take that little kit and say — but we have to do it gently. It's the 'Me Too' generation, so we have to be very gentle. And we will gently take the kit and slowly toss it, hoping it didn't hit her and injure her arm. Even though it weighs only 2 ounces." In the same speech, he again insulted Rep. Waters' intelligence, spewing the now-familiar mix of racism and misogyny.
When Trump was asked during a 2016 debate about all the women accusing him of assault or harassment, he
declared,
"No one has more respect for women than I do." If that were true, Bill Shine would not be welcome in the White House. Alas, he'll be right at home there.
Read more: https://www.cnn.com/2018/07/06/opinions/donald-trumps-disgusting-message-to-women-ghitis/index.html