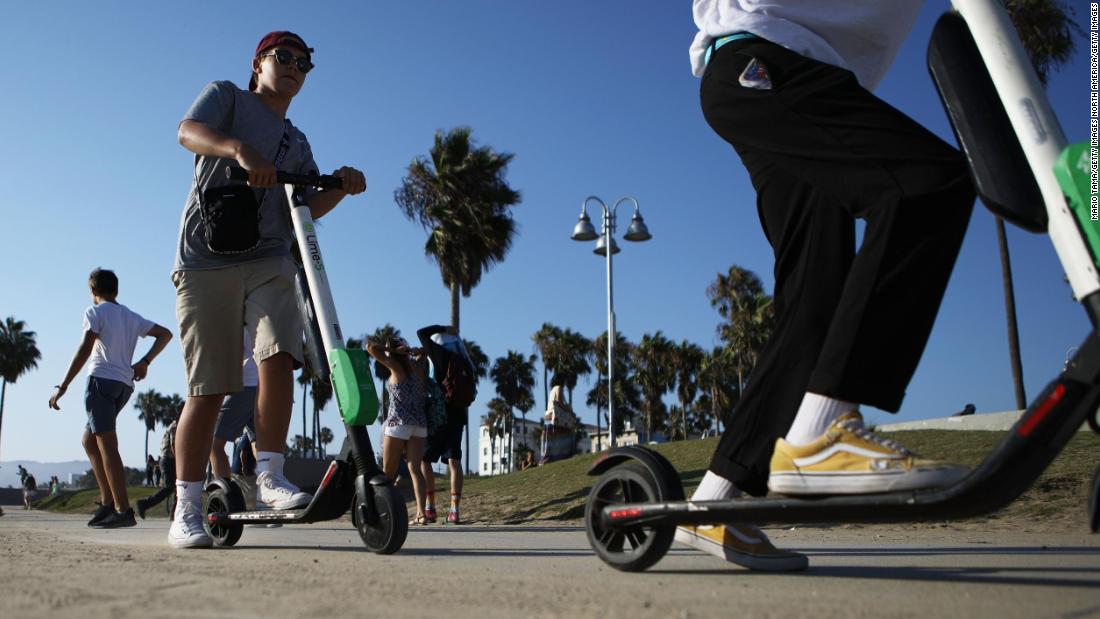 (CNN)Electric scooter boards, zipping past with their often helmet-free riders balanced atop, are rolling into American cities — like my hometown of Atlanta — at breakneck speed. Really. You could break your neck on one.
Meanwhile, the accidents are piling up. I'm a doctor and this is a problem.
It's a pattern regularly repeated with new consumer technology: sell it first, ask questions later. This is, of course, backwards. When health and safety is on the line, it is crucial that one company's legitimate right to come up with a handy new product (and money-making scheme) doesn't infringe on your right to move freely in public spaces without fear of serious injury.
Which brings us back to the electric scooters.
I recently treated such a rider at the Shepherd Center in Atlanta, where we focus on neurotraumas, like spinal cord injuries and traumatic brain injuries (TBI). My patient, who wasn't wearing a helmet, suffered a severe TBI in a collision with a car. While the driver of the car may well be to blame too, drivers are at a disadvantage when such devices take to city streets without any preparation: no effort to educate car owners that there is a new motorized vehicle to watch out for, no signage, no special street markings, and no coordination with the city.
A human figure standing up on an e-scooter represents a smaller visual profile than a bicyclist, and — out of the driver's peripheral vision — may "read" as an upright individual walking or running, as in "I've got time to make this turn." It's easy to see how visual perceptual problems, key to traffic safety, can contribute to these accidents.
I think my patient will ultimately be OK, but the injury will interrupt this patient's life for months, along with that of their entire family. It'll be a tough process getting back to independent living and work.
Electric scooter companies aren't just allowing their renters to take their own lives into their hands; by introducing the gadgets to unprepared cities (other places you can find them include Memphis, San Francisco, Denver and Austin, among others) they're putting nonriders at risk, too.
Likely sensing their vulnerability on the roadways, some scooter riders are zipping along the sidewalks at 15 mph, where they risk knocking down pedestrians and baby carriages. Bird tells its riders to follow the law in whatever town they're in. The problem is, riders don't always follow the traffic laws, and Bird knows that; all of us know that.
There are alternatives here to the chaotic rollout of the scooter business — although they may upend the companies' "disruptive" business models.
The fact is, this technology absolutely could bring potential benefits to gridlocked cities like Atlanta, with the scooters' environmentally-friendly energy consumption, tiny physical footprint, and convenience.
I'm not holding my breath that e-scooter companies will step up to their responsibility: it's America and there's too much money to be made. What will control this e-scooter proliferation is waves of
personal injury lawsuits
(firms are already gearing up) that will regulate to some extent where dysfunctional city and state government have failed to do so.
Meanwhile, I have a premonition I'll be writing something similar to this piece in 10 to 15 years, when rental jetpacks dumped on park benches start careening their customers into power lines and office towers. Could we try to get it right first, before that happens?
Correction: An earlier version of this article incorrectly stated that the Iowa man who lost control of his drone and injured a baby was fined $190. He was fined $160.