The celebrated reporters book Fear says top Trump staffers ridiculed him while a lawyer warned him of the threat of jail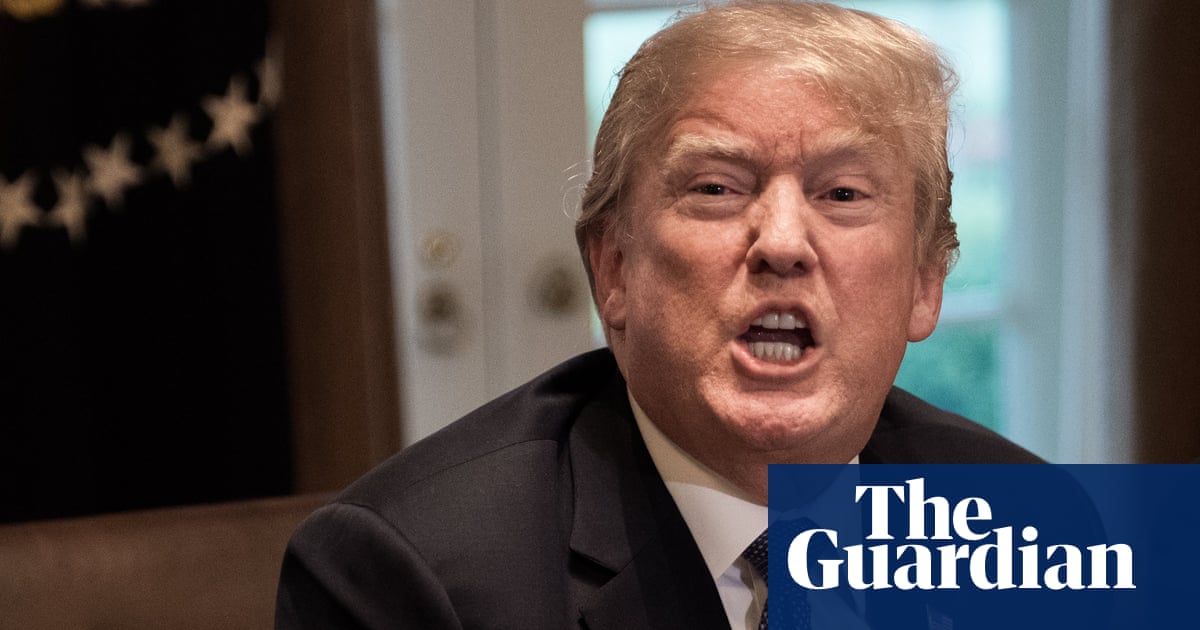 From claims that Donald Trump called for the assassination of the Syrian president to allegations that staff routinely take documents off Trumps desk, excerpts of Bob Woodwards account of the Trumps chaotic and dysfunctional White House, published by the Washington Post on Tuesday, are the latest to shed light on the workings of the administration.
The White House issued a statement on Tuesday saying: This book is nothing more than fabricated stories, many by former disgruntled employees, told to make the President look bad.
Here are five moments detailed in the veteran reporters book Fear, due to be published on 11 September.
Trump suggested assassinating Syrias president
Donald Trump wanted to have the Syrian president, Bashar al-Assad, assassinated last year but his defense secretary ignored the request, according to the book, which depicts top Trump aides sometimes sidestepping instructions to limit what they see as his damaging and dangerous behavior.
According to the book, Trump told the defense secretary, Jim Mattis, that he wanted to have Assad assassinated after the Syrian president launched a chemical attack on civilians in April 2017. Lets fucking kill him! Lets go in. Lets kill the fucking lot of them, Trump said, according to Woodward.
Mattis told Trump he would get right on it but instead developed a plan for a limited air strike that did not threaten Assad personally.
Fifth or sixth grader: Mattis on Trump
Mattis reportedly compared Trumps comprehension of national security and world affairs to that of a fifth or sixth grader. The retired marine general, who oversaw US military operations in Iraq and Afghanistan from 2010 to 2013, reportedly made the comments after Trump questioned the need for any US military presence in the Korean peninsula following a meeting in January.
Mentally retarded: Trump on Sessions
Trump reportedly attacked his attorney general, Jeff Sessions, in private even more harshly than he does in his regular Twitter tirades about the first US senator to endorse his presidential campaign.
Not only did Trump reportedly deride Sessions as a traitor for recusing himself in the Russia investigation, but he mocked his accent and southern origins. This guy is mentally retarded. Hes this dumb southerner, Trump said, according to the book.
Stealing letters from Trumps desk
Woodward reports that the former top White House economic adviser Gary Cohn stole a letter off Trumps desk that, if signed, would have withdrawn the US from its free trade agreement with South Korea, as well as another draft letter on withdrawing from Nafta. Cohn later reportedly told an associate that Trump never noticed the first letter went missing.
You are not a good witness
According to the book, Trumps former personal lawyer John Dowd told the president that if he testified before the Mueller investigation, he would probably go to jail. Dont testify. Its either that or an orange jumpsuit, said Dowd. Trumps attorney went on to tell him you are not a good witness and resigned the next day.
Crazytown
The White House chief of staff, John Kelly, called Trump an idiot and describing the White House as Crazytown, according to Woodwards account. However, in a statement from the White House issued on Tuesday afternoon, Kelly said: The idea I ever called the President an idiot is not true.