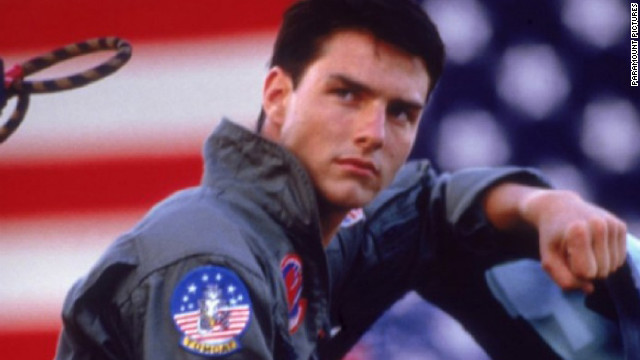 Washington (CNN)Actor Tom Cruise prompted a good-natured Twitter spat between the US Air Force and Navy on Thursday after posting a photo celebrating the planned sequel to the iconic 1986 film 'Top Gun.'
The caption reads "#Day1."
In a clear dig aimed at its friendly rivals, the Air Force's official account posted Cruise's photo with a caption that mocks Maverick's Navy jet — itself an upgrade over the F-14 Tomcat he pilots in the original film — as inferior to its own
F-15 Strike Eagle
.
"If Maverick really had a need for speed, he could hop into one of our F-15E Strike Eagles! #DYK: They have a top speed of 1,875 miles per hour," it said, touting the Air Force's own 1980s-era jet that has long been hailed as the most successful dog-fighting aircraft in US history — tallying more than 100 aerial combat victories, according to Boeing, the plane's primary contractor and developer.
The Navy responded by simply tweeting, "Remember, boys, no points for second place" — an ode to one of the movie's more memorable quotes.
Not to be outdone, the Air Force again leaned on the F-15's dog-fighting prowess with a reference to the aircraft's undefeated air-to-air combat record: "The F-15 knows nothing about this "second place" thing you speak of. Check the scoreboard! #Undefeated."
Cruise's post and the light-hearted feud between the Air Force and Navy has revived the buzz around production of a 'Top Gun' sequel — a project that David Ellison, chief executive officer of the Skydance production company, confirmed was in the works three years ago.
The original film centered on pilots attending the Navy's Fighter Weapons School at the former Naval Air Station (NAS) Miramar in San Diego and the Navy said it is providing access to one of its facilities to support the sequel's production.
"This week, specifically 30-31 May, the Navy provided Paramount Pictures access to Naval Air Station North Island in Coronado, CA, to support the Production of 'Top Gun': Maverick,' Navy spokesman Lt. Cdr. Dan Day told CNN.
"Further Navy support of the production is still being determined," he added.
The plot has largely been a secret but indications are that the film is expected to be set nearly 30 years after the original — though it appears Cruise's character has only reached the rank of Navy Captain despite serving as a Lieutenant in the first film.
Pentagon spokesperson Dana White said she had not yet read the movie's script but told reporters that "we will work very closely to ensure that it depicts our aviators in a realistic way."
Navy recruitment saw a major boost in the 1980s and into the 1990s after the original film's release. Production of the sequel comes as the Navy — as well as the Marine Corps and Air Force — are all facing
a shortfall of fighter pilots
, according to a report released last month by the Government Accountability Office.
"Service officials attributed these gaps to aircraft readiness challenges, reduced training opportunities, and increased attrition of fighter pilots due to career dissatisfaction," the report said. "To help increase fighter pilot numbers, the military services are taking actions, including increasing the amounts of financial incentives to retain pilots."
Read more: https://www.cnn.com/2018/05/31/politics/top-gun-air-force-navy-twitter/index.html